·

Gæster online: 1



·

Brugere online: 0



·

Antal brugere: 59


·

Nyeste bruger: Rol
FACTS & INFORMATION OMKRING TERRORANGREBET 11 SEPTEMBER 2001

Warning: include(): Failed opening 'infusions/../images/panel.php' for inclusion (include_path='.:/usr/share/php') in /customers/a/a/2/11september.dk/httpd.www/themes/templates/panels.php on line 121
| | | |
| --- | --- | --- |
| | FEMTEN UBEHAGELIGE SPØRGSMÅL OM 11. SEPTEMBER | |

FEMTEN UBEHAGELIGE SPØRGSMÅL OM 11. SEPTEMBER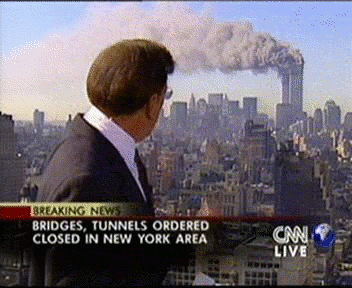 »Hvorfor tror så mange på tåbelige konspirationsteorier? Det seneste skud på stammen er myten om at den amerikanske regering selv stod bag angrebet på World Trade Center og Pentagon d. 11. september 2001.«

Sådanne ting kan man læse i aviser og på Internettet.

Ja, det er sandt: mange har mistro til den officielle redegørelse. I maj 2006 viste en opinions­undersøgelse at hele 42 % af USAs befolkning mente at den amerikanske regering og dens undersøgelses­kommission skjulte vigtige oplysninger som modsagde den officielle redegørelse for terrorangrebet. Et andet rundspørge gennemført nogle måneder senere af et andet institut viste at hele 36 % af befolkningen mente, at amerikanske embedsmænd enten havde medvirket til angrebene eller bevidst undlod at forhindre dem »fordi de ønskede at USA skulle starte en krig i mellemøsten«.

En lang række foreninger og hjemmesider – f.eks. The 911 Truth Movement - med kritisk holdning til den officielle redegørelse er skudt op i årene siden 11. september. En af deres væsentligste teorier går ud på at det ikke var brand, der fik tvillingetårnene og bygning 7 i WTC til at styrte sammen, men en såkaldt kontrolleret nedrivning, en teknik som anvendes af entreprenører til nedrivning af højhuse. Den foregår ved at man anbringer sprængstoffer omkring bygningens bærende stålbjælker og derefter detonerer dem ved fjernstyring fra en computer. Eksplosi­onerne sættes i gang efter en nøje planlagt sekvens, så hele bygningen falder indenfor sit eget grundplan uden at gøre skade på omgivelserne. Teorien går altså ud på, at nogen havde anbragt sprængstoffer i WTC (både i kælderen og i de højere etager) i god tid inden terrorangrebet og derefter, da de to kaprede fly fra Boston havde kollideret og de deraf følgende brande havde stået på et stykke tid, detonerede dem og bragte tårnene til fald.
>> 15 UBEHAGELIGE SPØRGSMÅL <<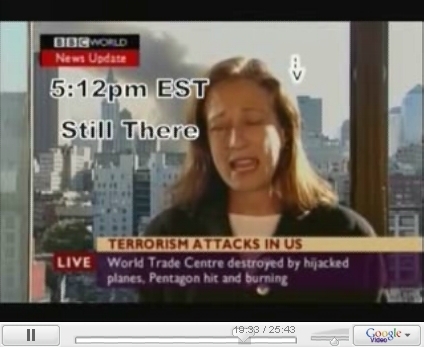 - Dette billede er ikke klikbart!! -



BBC nyhedsudsendelse spreder mystik.


Tirsdag den 11 september 2001 udsendte BBC denne nyhedsrapport med Jane Stanley live fra New York. Hun bekræfter at den seneste udvikling er at Salomon Brødrenes bygning er styrtet sammen. Salomon bygningen er bedre kendt som bygning-7. Pudsigt nok kan man se bygning 7 i baggrunden på live optagelsen. Den er til højre for rapporterens hoved (hvor pilen peger) og er tydelig genkendelig med sin øverste Penthouse etage. BBC rapporterede om sammenstyrtningen 23 minutter før end det utænkelige skete og de siger også at ingen kom noget til, da bygningen var blevet evakueret tidligere. Begge dele viste sig 23 minutter senere at være blevet til virkelighed.
>> Bygning 7 - BBC rapport <<

Efterfølgende har BBC benægtet at have forhånds viden om kollapset. De har dog heller ikke kunne forklare deres præcise fremsynsevner. Klippet er jo ellers ganske kontroversielt og dybt belastende for BBC's troværdighed, da bygningen rent faktisk står i baggrunden. Det kan BBC dog ikke kommentere på, for de har utroligt nok mistet optagelserne. Dog ikke pga konspirationer forsikre de, men takket være simpel kvalificeret sjusk. De inviterer sågar folk til at sende dem optagelser af programmet, så vil de kigge på dem. Tilsyneladende er BBC uden internet opkobling også! For resten af verden har set billederne og afventer et seriøst svar.
Læs selv BBC's utrolige kommentar til de utrolige billeder :
>> BBC - Svar på optagelserne <<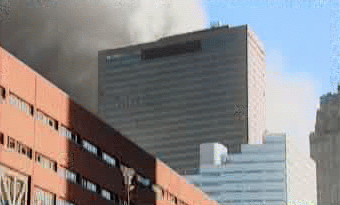 Salomon bygningens uvirkelige kollaps
Du er nødt til at logge på for at skrive en replik.


Deprecated: preg_replace(): The /e modifier is deprecated, use preg_replace_callback instead in /customers/a/a/2/11september.dk/httpd.www/includes/bbcodes/url_bbcode_include.php on line 21 Deprecated: preg_replace(): The /e modifier is deprecated, use preg_replace_callback instead in /customers/a/a/2/11september.dk/httpd.www/includes/bbcodes/url_bbcode_include.php on line 22
Deprecated: preg_replace(): The /e modifier is deprecated, use preg_replace_callback instead in /customers/a/a/2/11september.dk/httpd.www/includes/bbcodes/url_bbcode_include.php on line 21 Deprecated: preg_replace(): The /e modifier is deprecated, use preg_replace_callback instead in /customers/a/a/2/11september.dk/httpd.www/includes/bbcodes/url_bbcode_include.php on line 22
Deprecated: preg_replace(): The /e modifier is deprecated, use preg_replace_callback instead in /customers/a/a/2/11september.dk/httpd.www/includes/bbcodes/url_bbcode_include.php on line 21 Deprecated: preg_replace(): The /e modifier is deprecated, use preg_replace_callback instead in /customers/a/a/2/11september.dk/httpd.www/includes/bbcodes/url_bbcode_include.php on line 22
Deprecated: preg_replace(): The /e modifier is deprecated, use preg_replace_callback instead in /customers/a/a/2/11september.dk/httpd.www/includes/bbcodes/url_bbcode_include.php on line 21 Deprecated: preg_replace(): The /e modifier is deprecated, use preg_replace_callback instead in /customers/a/a/2/11september.dk/httpd.www/includes/bbcodes/url_bbcode_include.php on line 22
Deprecated: preg_replace(): The /e modifier is deprecated, use preg_replace_callback instead in /customers/a/a/2/11september.dk/httpd.www/includes/bbcodes/url_bbcode_include.php on line 21 Deprecated: preg_replace(): The /e modifier is deprecated, use preg_replace_callback instead in /customers/a/a/2/11september.dk/httpd.www/includes/bbcodes/url_bbcode_include.php on line 22
Deprecated: preg_replace(): The /e modifier is deprecated, use preg_replace_callback instead in /customers/a/a/2/11september.dk/httpd.www/includes/bbcodes/url_bbcode_include.php on line 21 Deprecated: preg_replace(): The /e modifier is deprecated, use preg_replace_callback instead in /customers/a/a/2/11september.dk/httpd.www/includes/bbcodes/url_bbcode_include.php on line 22
Deprecated: preg_replace(): The /e modifier is deprecated, use preg_replace_callback instead in /customers/a/a/2/11september.dk/httpd.www/includes/bbcodes/url_bbcode_include.php on line 21 Deprecated: preg_replace(): The /e modifier is deprecated, use preg_replace_callback instead in /customers/a/a/2/11september.dk/httpd.www/includes/bbcodes/url_bbcode_include.php on line 22
Deprecated: preg_replace(): The /e modifier is deprecated, use preg_replace_callback instead in /customers/a/a/2/11september.dk/httpd.www/includes/bbcodes/url_bbcode_include.php on line 21 Deprecated: preg_replace(): The /e modifier is deprecated, use preg_replace_callback instead in /customers/a/a/2/11september.dk/httpd.www/includes/bbcodes/url_bbcode_include.php on line 22
Deprecated: preg_replace(): The /e modifier is deprecated, use preg_replace_callback instead in /customers/a/a/2/11september.dk/httpd.www/includes/bbcodes/url_bbcode_include.php on line 21 Deprecated: preg_replace(): The /e modifier is deprecated, use preg_replace_callback instead in /customers/a/a/2/11september.dk/httpd.www/includes/bbcodes/url_bbcode_include.php on line 22
Deprecated: preg_replace(): The /e modifier is deprecated, use preg_replace_callback instead in /customers/a/a/2/11september.dk/httpd.www/includes/bbcodes/url_bbcode_include.php on line 21 Deprecated: preg_replace(): The /e modifier is deprecated, use preg_replace_callback instead in /customers/a/a/2/11september.dk/httpd.www/includes/bbcodes/url_bbcode_include.php on line 22
Deprecated: preg_replace(): The /e modifier is deprecated, use preg_replace_callback instead in /customers/a/a/2/11september.dk/httpd.www/includes/bbcodes/url_bbcode_include.php on line 21 Deprecated: preg_replace(): The /e modifier is deprecated, use preg_replace_callback instead in /customers/a/a/2/11september.dk/httpd.www/includes/bbcodes/url_bbcode_include.php on line 22
Deprecated: preg_replace(): The /e modifier is deprecated, use preg_replace_callback instead in /customers/a/a/2/11september.dk/httpd.www/includes/bbcodes/url_bbcode_include.php on line 21 Deprecated: preg_replace(): The /e modifier is deprecated, use preg_replace_callback instead in /customers/a/a/2/11september.dk/httpd.www/includes/bbcodes/url_bbcode_include.php on line 22
Deprecated: preg_replace(): The /e modifier is deprecated, use preg_replace_callback instead in /customers/a/a/2/11september.dk/httpd.www/includes/bbcodes/url_bbcode_include.php on line 21 Deprecated: preg_replace(): The /e modifier is deprecated, use preg_replace_callback instead in /customers/a/a/2/11september.dk/httpd.www/includes/bbcodes/url_bbcode_include.php on line 22
Deprecated: preg_replace(): The /e modifier is deprecated, use preg_replace_callback instead in /customers/a/a/2/11september.dk/httpd.www/includes/bbcodes/url_bbcode_include.php on line 21 Deprecated: preg_replace(): The /e modifier is deprecated, use preg_replace_callback instead in /customers/a/a/2/11september.dk/httpd.www/includes/bbcodes/url_bbcode_include.php on line 22
Deprecated: preg_replace(): The /e modifier is deprecated, use preg_replace_callback instead in /customers/a/a/2/11september.dk/httpd.www/includes/bbcodes/url_bbcode_include.php on line 21 Deprecated: preg_replace(): The /e modifier is deprecated, use preg_replace_callback instead in /customers/a/a/2/11september.dk/httpd.www/includes/bbcodes/url_bbcode_include.php on line 22